Our company participated in the 4th Yellow River Golden Triangle Investment Cooperation Exchange Conference
---
---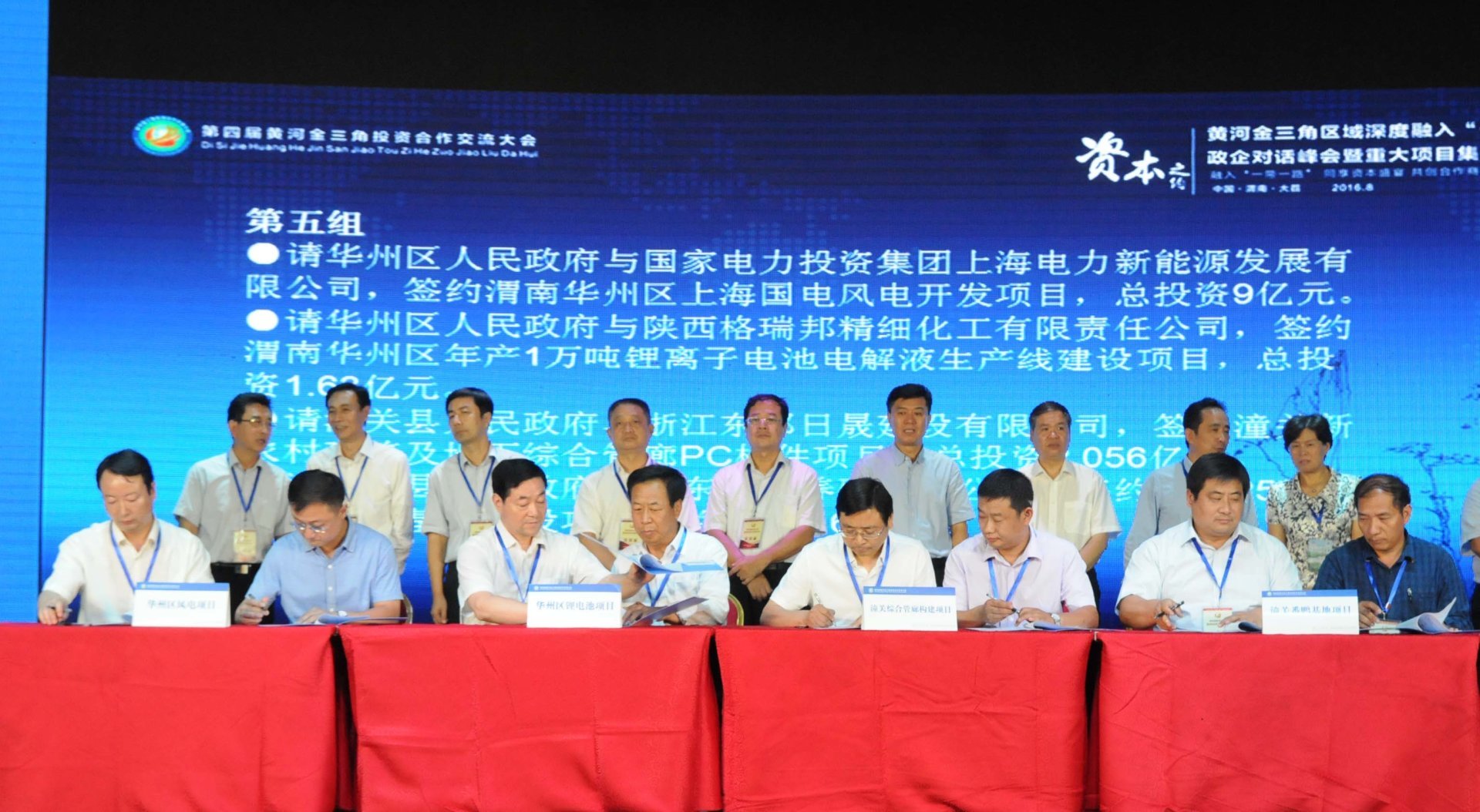 From August 24th to 26th, the Fourth Yellow River Golden Triangle Investment Cooperation and Exchange Conference was held in Dali County, Shaanxi Province. Representatives from 3 provinces, 4 cities, and enterprises from Weinan, Shanxi Yuncheng, Linfen, and Sanmenxia in Henan surround the Golden Triangle area Participate in the construction of the Silk Road Economic Belt, realize the "going out" of well-known enterprises in the Yellow River Golden Triangle region, create a strategic fulcrum of the "Belt and Road" strategy, promote opening up within the region, and explore new ideas for cooperation. Our company was invited to participate in and signed a 10,000-ton lithium-ion battery electrolyte project with the Huazhou District Government.
The cooperation and exchange conference was hosted by the Shaanxi Provincial Department of Commerce, the governments of Weinan City, Yuncheng City, Linfen City, and Sanmenxia City, as well as the Jinshaan-Yanhe-Yellow River Golden Triangle Undertaking Industry Demonstration Zone Office to jointly build the "Belt and Road" initiative, and create business opportunities for cooperation, The theme of sharing development results.
At the capital agreement held on the 24th, the Yellow River Golden Triangle region was deeply integrated into the "Belt and Road" government-enterprise dialogue summit and the signing ceremony of major projects. Qian Junchang, vice chairman of the CPPCC, attended the meeting and delivered a speech. The mayor of Weinan City, Li Mingyuan, the acting mayor of Yuncheng City, Chen Zhenliang, the relevant departments of provinces, cities and counties, more than 40 domestic and foreign business associations, and more than 2,000 entrepreneur representatives attended the event.
Qianjun Chang pointed out that since the country approved the "Jin-Shan-Yu-Yellow River Golden Triangle Regional Cooperation Plan" in 2014, four cities in the region have jointly built the national "Belt and Road" construction, and new competitive advantages in foreign trade have been increasing. Economic cooperation in Beijing, Tianjin, Hebei, and other regions has become closer. The overall strength of the region and the level of coordinated development have been comprehensively improved, and it has become a new engine driving the development of the surrounding areas.
At the meeting, the governments of the four cities signed the "Consensus on Further Promoting Investment Cooperation and Exchange in the Golden Triangle Region of Shanxi, Shaanxi, Henan and the Yellow River". At the project signing ceremony, the four cities signed a total of 35 cooperative projects. Among them, there are 7 projects in the energy and chemical industry, including 160,000 tons of cyclohexanone in Hancheng, 10,000 tons of lithium ion battery electrolyte in Huazhou District, 50,000 tons of waste oil recycling and recycling in Fuping, and 1 billion ampere-hour lithium iron phosphate batteries in Weinan. 1.19.8 MW distributed photovoltaic power generation in Heyang County, and corrugated beams in Heyang County meet the PVC project, etc., with a total investment of more than 2.1 billion yuan.
---