Waterma new energy vehicle power battery project put into production
---
---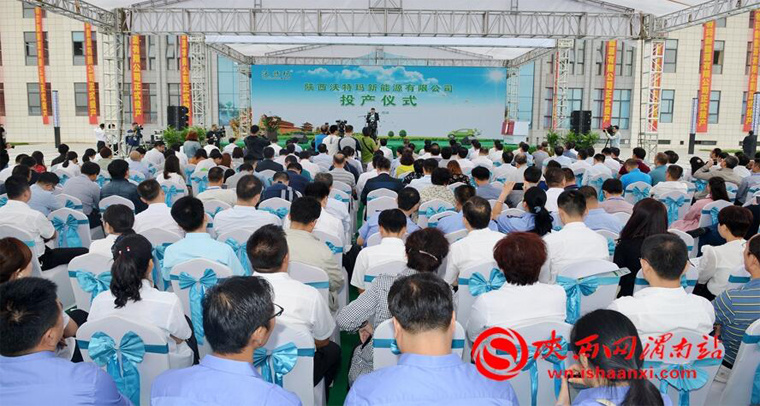 On September 20, the first-phase project of Shaanxi Watma new energy vehicle power battery was officially put into production in Weinan High-tech Zone. Deputy Governor Zhuang Changxing, Deputy Secretary-General of the Provincial Government Wang Xiaochi, and relevant leaders of the Provincial Development and Reform Commission, the Ministry of Industry and Information Technology, the Finance Department, the Science and Technology Department, and the Commerce Department; Lu Zhiyuan, Secretary of the Weinan Municipal Party Committee; Mayor Li Mingyuan; Chairman of the CPPCC Liu Xinxing; Guo Yongge, Party Secretary and Deputy Director, Li Jinlin, President of Waterma Group, and Wang Xueqiang, Secretary-General of Waterma Innovation Alliance attended the ceremony.
Shaanxi Wotema new energy vehicle power battery project was officially settled in the high-tech zone in May last year, with a total investment of 5 billion yuan. According to the form of "one-time planning and batch implementation", a 10GW lithium-ion power battery production line is planned to be built in three phases. After the project is completed and put into production, it is expected to realize an annual sales income of 20 billion yuan and a profit and tax of 4 billion yuan. The total construction area of ​​the first phase of the project has been 130,000 square meters, and it is expected to achieve an annual output value of 7.5 billion yuan when it reaches capacity.
In his speech, Li Mingyuan pointed out that the Waterma power battery project is one of the fastest industrial projects in Weinan City from negotiation, construction to commissioning. Its completion and operation indicates that Weinan City has taken a solid step in the development of new energy vehicle industry. . It is hoped that the high-tech zone will further optimize the investment environment and create conditions and atmosphere for the accelerated development of enterprises in the zone; Watermar will also plan to launch the second and third phase projects as soon as possible to attract more alliance companies to invest in Weiye. In the next step, Weinan will focus on building a new energy vehicle industry chain, and work with the Waterma Industry Alliance to actively seek more enterprises to settle down, accelerate the introduction of new energy vehicle production projects, and continue to explore new energy vehicle promotion and application models. We will strive to establish Weinan as a first-class demonstration base for processing and manufacturing new energy vehicles in the western region and influencing the country as soon as possible.
Li Jinlin said that, as one of the first batch of enterprises selected by the Ministry of Industry and Information Technology's "Automotive Battery Industry Regulations and Conditions" directory, Watma will use the Weinan High-tech Zone New Energy Vehicle Industry Base as a model and launch a plan to build an advanced intelligent manufacturing benchmarking enterprise within five years. From the three aspects of building pilot demonstrations, strengthening local application services, and relying on alliance and collaborative innovation, we will accelerate the construction of domestic first-class and internationally leading automated power battery production bases and provide new and powerful support for the transformation and upgrading of Weinan industry.
上 At the opening ceremony, Weinan Industrial Investment Development Group Co., Ltd. and Shenzhen Minfu Woneng New Energy Automobile Co., Ltd. signed a cooperation agreement. Both parties will continue to promote practical cooperation in the application and promotion of new energy pure electric buses.
---