Tianchen New Energy Industrial Park Project Settled in Weinan
---
---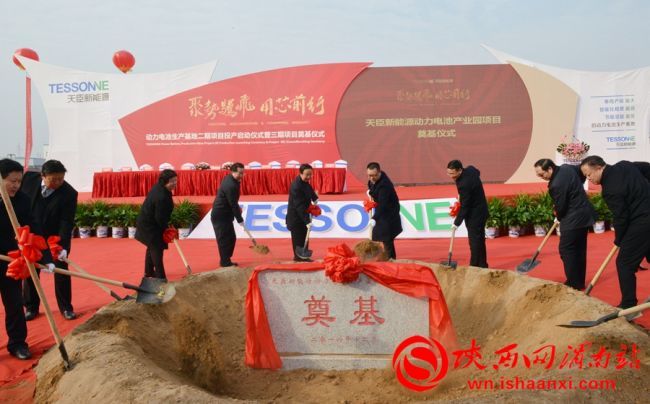 On December 29, 2016, Tianchen New Energy Power Battery Phase 2 3GW project was put into operation in Weinan High-tech Zone. The capacity of new energy batteries reached 7.4GWH, accounting for 23% of the country's 32GWH new energy battery capacity in 2016. At the same time, the foundation laying ceremony for the third phase of the Tianchen New Energy Industrial Park was held. Li Xiaodong, deputy director of the Standing Committee of the Shaanxi Provincial People's Congress, Lu Zhiyuan, secretary of the Weinan Municipal Party Committee and director of the Standing Committee of the Municipal People's Congress, chairman and president of Tianchen New Energy (Shenzhen) Co., Ltd. Sheng Siguang and others jointly laid the foundation stone for the project construction and built the largest lithium-ion power battery industrial park in China.
It is understood that Tianchen New Energy (Weinan) Co., Ltd. is a new energy enterprise invested by Hong Kong-listed Tianchen Holdings. It is committed to the development of lithium-ion power battery technology, research and development of new battery materials and parts, manufacturing technology and equipment industry domestic research and development. And manufacturing. Products are widely used in electric cars (EV), hybrid electric cars (HEV), pure electric buses (EV), plug-in hybrid buses (HEV), electric bicycles, electric motorcycles, smart grid energy storage power stations, Communication base station backup power supply, military industry and other fields.
Tianchen New Energy Industrial Park project has a total investment of 5 billion yuan and covers an area of ​​347 acres, including 89 acres in the first phase, 50 acres in the second phase, and 208 acres in the third phase. It will build the largest lithium-ion power battery in China. Industrial Park. At present, the first phase of the project has reached production and efficiency in June this year, and it has formed a design capacity of 1.4GWH power batteries. The second and third phases of the project will be started in late 2016 and 2017. The second phase of the 3GW project is the production line with the largest daily production capacity, the highest level of intelligence, the best energy efficiency, and the lowest scale manufacturing cost in China. Achieved the design capacity of 12.4GWH power batteries. After the industrial park project is completed, it is expected to become the ternary material power battery base with the largest annual production capacity in China.
It is reported that Weinan High-tech Zone plans to build a 4000-mu new energy industry and demonstration application base around the entire new energy vehicle industry chain, including four major functional areas: manufacturing area, research and development area, warehouse logistics and commercial living area. The manufacturing area covers an area of ​​2,000 acres, mainly for the construction of new energy vehicle batteries, motors, electronic control and other core components and vehicle manufacturing areas. As new energy companies such as Tianchen and Waterma successively put into production, projects such as Xingmei and new energy pure electric vehicles have been settled, and the concentration effect of the new energy industry has continued to become apparent. It can form a 30GW power battery production scale and will become the largest new energy country in the country. One of the energy industry bases.
According to the development plan, the new energy industry in Weinan High-tech Zone has prioritized the development of new energy automobile parts and components industries such as power batteries, motors and motor controllers, making full use of new energy automobile battery projects that have been settled to attract positive materials, negative materials, and electrolytes. , Battery and other power battery raw material companies to invest in Weinan, forming a complete power battery industry chain. At the same time, it will strengthen investment promotion for power battery companies, actively attract domestic and foreign advanced motor and motor controller production projects to settle in Weinan, encourage motor and motor controller enterprises to increase investment in research and development, and build Weinan into a domestic advanced motor and motor controller production base , Gradually cultivate a group of upstream and downstream key parts and components supporting enterprises, build a complete new energy vehicle core parts industry chain, and establish a foundation for the further development of new energy vehicle manufacturing. After the conditions are mature, we will also introduce the mid-to-high-end passenger car manufacturing project to promote the development of new energy passenger car parts supply companies.
---